Apple releases new generation of iPhones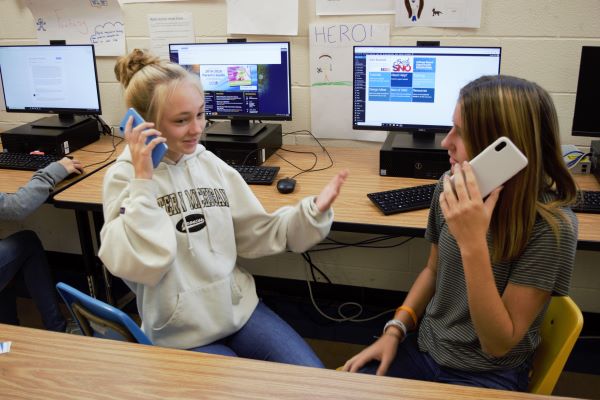 Some people are always eager to hear about the newest iPhone, whether they are looking to buy them or not. The iPhone 11, iPhone pro and the iPhone 11 pro max were released September 20th. It was available for pre-order September 13th; Apple usually adds a couple new features and upgrades.
The iPhone 11 has two cameras, but unlike the X and the XS, the 11's cameras are separated instead of combined. While the iPhone 11 has 2 cameras, the iPhone 11 pro and pro max have 3. The cameras are for wide, ultra-wide, and telephoto. According to Apple, "The iPhone 11 is only available in 1 size, 6.1 inches, but has a variety of colors: purple, green, yellow, white, red, and black. The pro and pro max iPhones are available in a 5.8-inch display and a 6.5-inch display, with the max being the larger one. Both the pro and pro max's battery life lasts up to 5 hours longer than the previous phone and the regular iPhone 11 lasts 4 hours longer." The iPhone pro and pro max come in midnight green, silver, black and gold. Apple says the new iPhones have wireless charging, audio sharing, water resistance up to 4-5 meters, and better WIFI connection.
Some students shared how they felt about the new iPhones. Kelli Slater, 9th grade, said she will not be buying it. She said, "The cameras don't make sense," and she doesn't need to upgrade. Gabby Davis 10th grade, said she will not be getting the 11 because she "already has the XS." Riley Jamo, 9th grade, says "no" to the iPhone 11 pro. She said, "The cameras are ugly and the quality is similar to the X." It seems like not many students are impressed with the newest iPhones, but a couple are on board. Sophomore Ava Loschiavo said that she likes the three cameras and the new colors the iPhone 11 come in. Jacob Sciandra, 11th grade, said that he likes the "new features like the wireless charging" and would be interested in buying it if it was in his budget. Not all students are liking the new iPhones, but a few of them do.