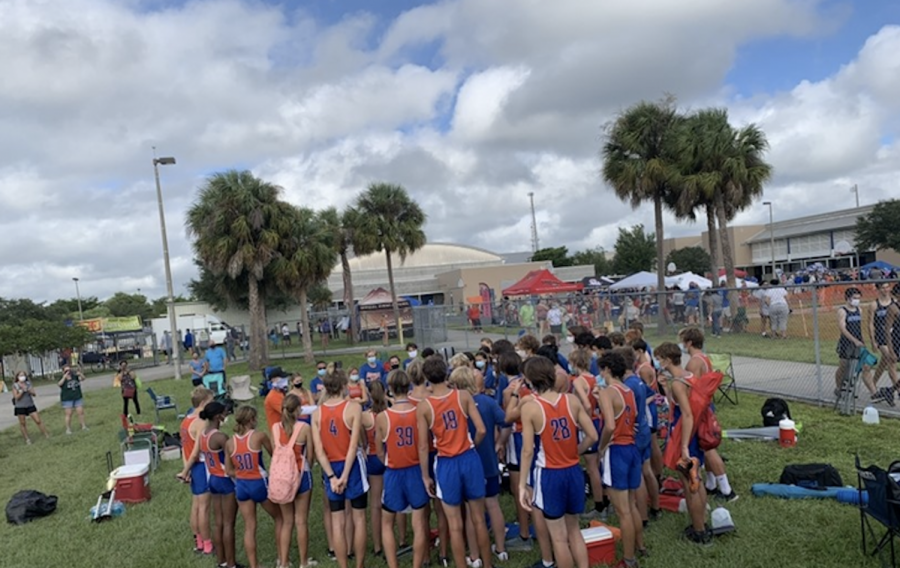 As the cross country team conquered another meet this past weekend, it became apparent to the runners that it's time to look ahead to states. This past weekend, Warriors competed in "FL Runners Invitational 21", a race that brings many teams from around the state of Florida to compete at Holloway Park.
Julia Tripp, a varsity runner on the team, said, But this sport isn't just about running. Many runners have had great success from this season so far, and have been able to create new friendships from this experience.
Tripp explained, "I've met some of my closet friends through cross country." The team will attend another meet this weekend in Land O' Lakes, and athletes hope to take home a win for both JV and Varsity teams. Many athletes look forward to hopefully beating their personal records on this race. Both the athletes and their coach have high expectations for the performance this weekend. As of September 13th, both the girls' and boys' teams are ranked as some of the top teams in the 3A Region. Looking ahead, the varsity athletes will begin to move into championship season as they prepare for states. Many runners are excited and have high hopes for both varsity groups performances.
"I think that the team is going to do amazing when we get to championship season," said Abigail Clements, as she and her teammates continue to improve their times their throughout the season. With state competition just a month away, the pressure is on, but athletes are confident in their team and their training. "I feel that my season is getting better and better every week!" Clements exclaimed. In present news, some races have been moved around, due to complications of the recent pandemic. Athletes said COVID has affected this season, saying it has made it much more difficult for spectators and arrangements at meets. Although athletes feel wearing masks and social distancing during their meets maybe difficult, they have been able to adapt and make the most out of their current situation. The team is still very hopeful it will perform just as well, even though complications may get in their way. The team will continue to put hard work and effort into their training as they prepare, and put effort into each and every single performance. As of now, the championship season is on, and in just a few weeks, Warriors can be ready for their cross country team to represent the orange and blue.