Vinny misses the mark on the Super Bowl winner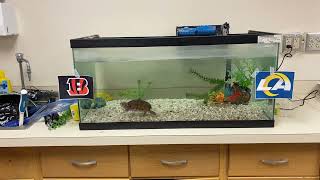 The Rams ended up winning with a score of 23 points. The Bengals were close behind with a score of 20 points.
The constant yelling at the tv, celebrating after a touchdown, enjoying special performances by artists, and having a great day with a variety of food and drinks with family and friends. Super bowl LVI is finally here and will take place at SoFi stadium on the 13th of February. It's the best football game of the year, with so much excitement around the country. This year it will be played by the Cincinnati Bengals and the Los Angeles Rams. Families are both very thrilled but also nervous to find out who the Super Bowl champion will be. There will also be additional performances during halftime, uplifting the mood after sitting on the edge of our seats. Freshman Rebecca Wood says "I'm excited to watch all of the creative commercials and to see the halftime show. I have always loved watching the commercials because they are always so creative and cool for the super bowl." Every year there are crazy new commercials that some people always look forward to seeing. Rebecca also says she is rooting for the Cincinnati Bengals!  Sophomore Katie Torres says "I'm most excited to get together with my family and eat a bunch of food. I also can't wait to watch the halftime performances they get better and better every time." The performers for this year's halftime show will be rappers Snoop Dogg, Kendrick Lamar and Eminem, Mary J. Blige, and Dr. Dre. The week leading up to the big game is always so exhilarating, knowing that the two teams that are competing haven't gone this far in a while. To add on to the excitement of this week, Vinny the turtle is back again to predict this year's super bowl winner! Last year Vinny guessed the Bucs would win which turned out right.