Lip Sync Battle gets a Broadway makeover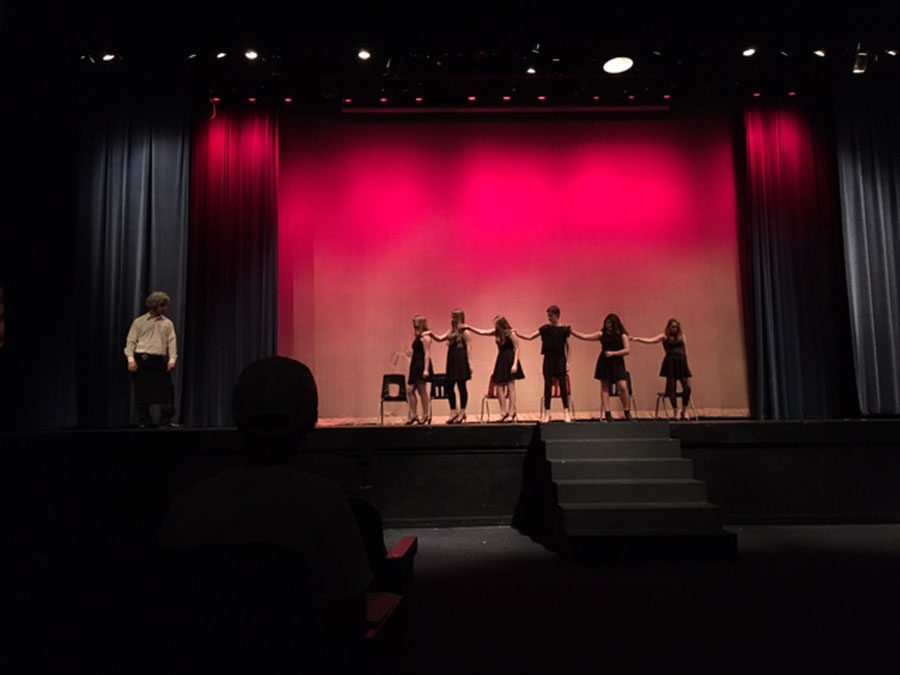 Last Tuesday, February 21st, the Theatre Troupe 3507 held its second annual lip sync show. The theme was "Epic Broadway Style Lip Sync Battle" and students sang along with songs from "Wicked", "Dear Evan Hansen", "Hamilton" and more. Performers were split into 6 categories and went head-to-head in solo battles, duets, and group performances.
Julia Speyrer, 10th grade, performed "Words Fail" from the musical "Dear Evan Hansen" in the Dear (God) Evan Hansen (Is So Popular) category. Julia explained the reason behind her song choice: "I knew I wanted to do something from 'Dear Evan Hansen' because I love the musical and that song hit me really hard, as I relate to it". When asked what her favorite part about performing in the "Lip Sync Battle" was, Julia said, "I enjoyed everyone's unconditional love and support the most, definitely". The "Epic Broadway Style Lip Sync" theme was a new addition this year and Julia shared her thoughts. "I love it. It's a good way to get Broadway shows to be more known".
Mary Cruz, grade 10, also sang in the "Lip Sync Battle", performing a duet with Tina Nguyen, grade 10, titled "Take Me or Leave Me" from the musical "Rent". Mary commented on whether performing in a duet was more challenging than a solo. "In a way, because you had to incorporate both' person's ideas, but we had no problem since we were so close and got along really well". She explained that she and Tina "decided on the song because we both really loved the song from the 'Rent' soundtrack".
Even though the attendance was down from last year's show, audience member Judy Williams said the show was amazing. "You can tell the amount of effort the students put into their performances, including costumes, makeup and props". She added, "I noticed that several students performed more than one song, which showed their versatility, ranging from serious to silly themes."
When asked if she would participate in this type of show again, Mary said, "I have never done a lip sync battle, but I was convinced into it this year, and I don't even regret it and will definitely join it again next year!"
All the donations made by the audience are going to help Troupe 3507 with costs of traveling to States. The troupe will be hosting a Sadie Hawkins Dance to also help raise more money.