Shadows take over Osceola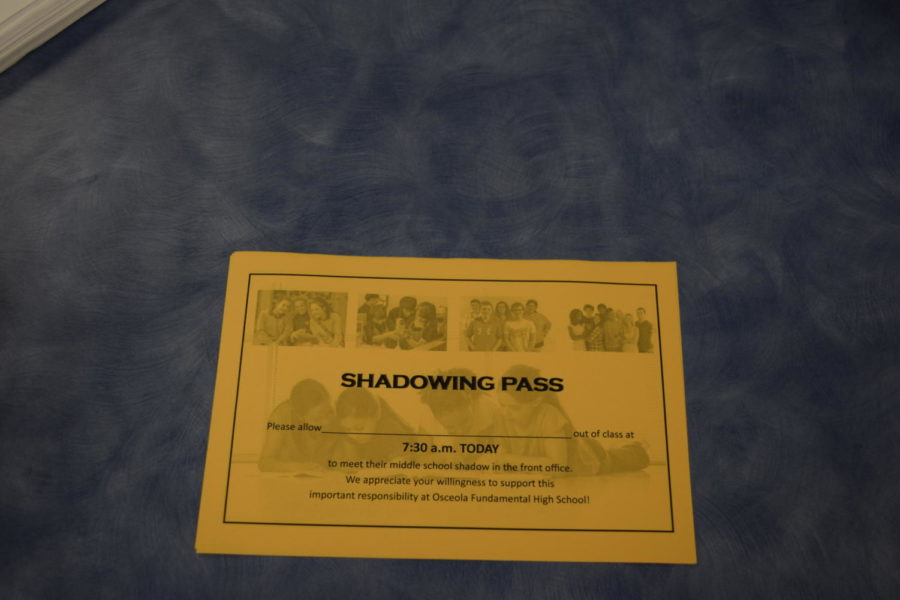 When fall comes around, most students at Osceola know that its shadow season. According to Mrs. Reitz, guidance clerk, shadows are eighth grade students from middle schools all over the county, that come and follow a ninth grade student for a day to see what high school is all about. Shadowing started on October 8th , and will last until December 5th . The shadowing program has been around since about 2010. One freshman had a shadow on October 15th . The 9th grader said, "It's a good experience. It allows the student to experience something new and see how the school is. Shadowing lets you see what a day in high school is like and it is very beneficial to the eighth grader." She also said, "When I shadowed at Osceola, I learned it is completely different from what I thought high school would be. There are for sure a lot of differences between middle school and high school. For example, there are a lot more freedoms." The student said her shadow learned a quite a bit from just one day at Osceola.
Mrs. Reitz said, "The reason eighth graders shadow is because it helps hem make the decision on what school they want to go to. For example, if a student is interested in the culinary program in our school, then the student would shadow a ninth grader that is in the culinary program." The shadow program can be beneficial for the eighth grader, in making the decision on which school the wish to go to. Shadow season is just beginning, so be prepared to see a lot more eighth graders.