Ms. Guccione hopes to paint a new future with Warriors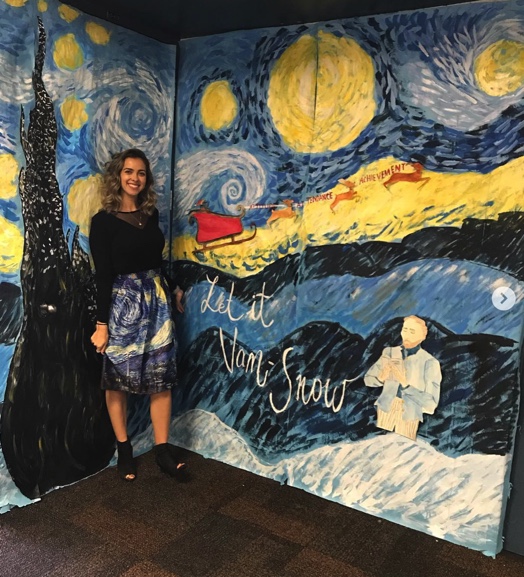 Lily Watts, Staff Writer
September 10, 2020
Osceola High has a new art teacher. Her name is Ms. Guccione– (or Ms. Gucci, for short).
1. What made you decide to become a teacher, and how long have you been teaching?
Ms. Guccione has always loved art. In eleventh grade, she asked her high school art teacher what job she thought she should apply for, and she told Ms. Gucci to be an art teacher. Her teachers were always very nice and cared about her, so she applied to an art education program and got in. This is now her fifth-year teaching.
2. Why did you choose to teach at Osceola?
Ms. Gucci's main goal was always to teach at a high school. The position came up once a former art teacher transferred to Gibbs High School. Ms. Gucci loves art history, and the art history program is what pulled her in. She says she is still shocked about getting the position!
3. What do you bring to the school that makes you unique?
Ms. Gucci is full of fresh ideas. She has a positive attitude, and is passionate about what she does. Ms. Gucci says she wants to plan field trips to New York. She and Ms. Gates, Osceola's other art teacher, are even hoping to create a consistent overseas field trip in 2 years! She wants to help her students get out of the classroom and see the world.
4. What is your teaching philosophy?
Ms. Gucci wants to give back to students what her teachers taught to her. She cares about her students and wants to awaken their creative passions. Her goal is to get a student who does not like art at all, and teach them to love it, to become an artist in some field. She wants to get people to recognize that being creative is fun.
5. What are you most excited about teaching this year?
Ms. Gucci is extremely excited about teaching photography. She found an old enlarger from a friend– so she is looking forward to making a film and photography club in the future!
6. What frustrates you the most in a classroom?
Ms. Gucci says virtual learning is difficult. Toggling between two different groups of people makes it feel like she is always ignoring one group or the other. Ultimately though, she thinks it will get better because she is learning more each day.
7. What are your strengths and weaknesses as a teacher?
Ms. Gucci is strong in that she has immense passion and excitement for her course curriculum. Organization is hard for her though; she is scared about losing her students' assignments this year!
8. Lastly, who is your favorite artist, and why?
Ms. Gucci's favorite artist varies from day to day. If she had to pick though, her all-time favorite artist would be Claude Monet. Monet started the impressionist movement because he broke the rules. He started something that other people really liked, and it changed the course of art forever. He was one of the first to actually take art supplies out of the studio, and start painting outside. "You've got one hour to paint a sunset – go!" Ms. Gucci says that sometimes you must break the rules to make a difference.