Staff members distribute April edition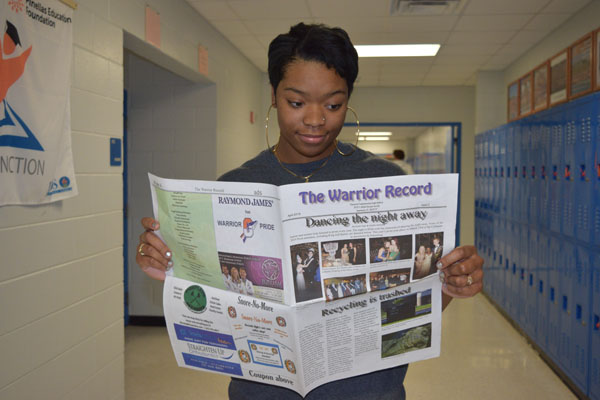 Hang on for a minute...we're trying to find some more stories you might like.
Last Thursday, the staff members of the Warrior Record distributed the April edition of the school newspaper. Editor-in-Chief Faith Henson said, "I think it's a great way to get the school news out." Newspaper editor and writer Giselle Samonek wrote the prom story. "I think some people were there and they got to see their friends, and they wanted to see how it was." Sports writer Ethan Tuttle said he wrote the recycling story and that it was important for the school to know about "so students will know that they can't recycle anymore."
Coach Brandt, critical thinking, team sports and volleyball teacher, said her favorite story in this edition of The Warrior Record was "the Prom one, because I missed Prom this year and it was nice seeing how much fun people had and what they thought of it." During distribution, staff of The Warrior Record had to divide into groups and each group had to go to a certain number of classes and give a copy of the newspaper to anyone who wanted it. If you didn't get a newspaper, pick one up outside room 166.