Seniors signing for sports and their futures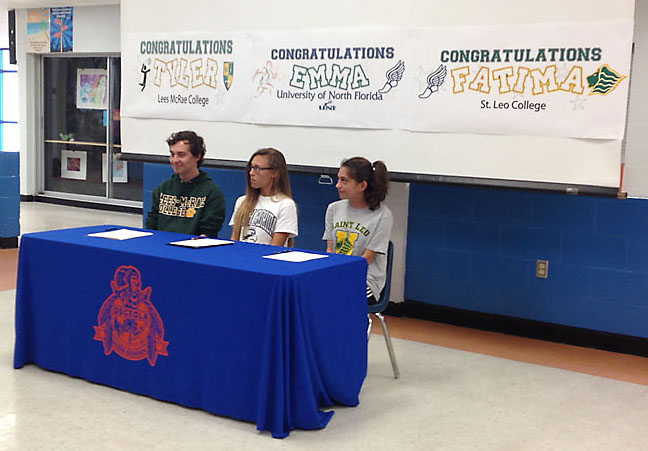 Senior Emma Grantges has been running track since her middle school days, but her cross country career began just this year. "I was inspired to run cross country and track because I like running and it's fun to be on the teams!" Grantges said.
A number of Osceola seniors have signed for sports careers with colleges, and three more students are now in the spotlight: Emma Grantges, who has signed with the University of North Florida for cross country and track, Tyler Doyle for volleyball with Lees McRae College in North Carolina, and Fatima Abu-Rumann for cross country and track with St. Leo College.
Grantges finds many factors about UNF appealing and is excited to start there. "The campus is beautiful and close to the beach. Also, they have a good nutrition program, which is my choice area of study." She foresees that running for UNF will be different from Osceola in the sense that practices will be much earlier as well as far more difficult.
Grantges is also, in part, to thank for Tyler Doyle's start in volleyball. According to Doyle, Grantges got him into the sport and they would play two-man beach volleyball with one another. As for how playing for Lees McRae will be any different from his past volleyball experiences, Doyle can see a contrast. "Osceola doesn't have boys volleyball," said Doyle. "Club volleyball has always been too far away so it'll be different constantly practicing for my school." Aside from volleyball, Doyle is also looking forward to seeing and working in the wildlife rehabilitation center that is on campus as well as meeting new people.