Lightning strikes again at Osceola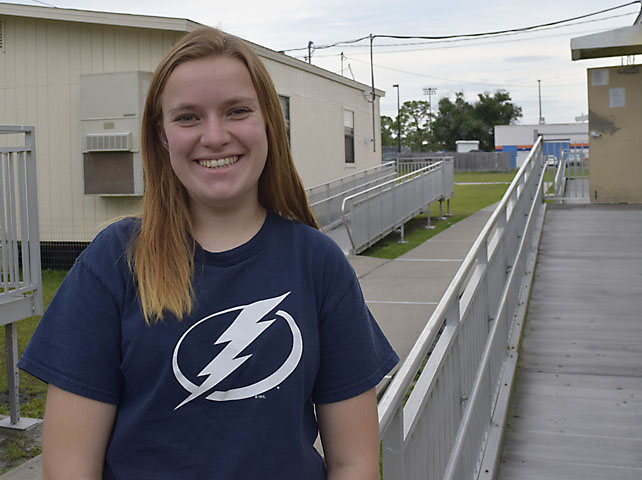 The Tampa Bay Lightning started extremely well in the Stanley Cup Playoffs, defeating the New York Islanders 4-0 on Sunday, May 8 to move on to the Eastern Conference Finals. This is, according to Yahoo Sports, the second year in a row that the Lightning have secured a spot in the Finals. With the excitement over the Lightning's performance growing as they continue to pursue the championship title, students at Osceola have been showing their team spirit by wearing Lightning garb around school. One such student is junior Elizabeth Riser.
"What I really like about the games is all the energy that the arena holds from the fans. It's really cool to see all that energy come out of each fan, especially when the Lightning scores a goal," Riser said. "I have been to three or four playoff games with my dad and it's a really great experience. I always have fun when I'm at the arena and it's great to share that rush of excitement with all these fans and my dad!"
Riser said that her favorite player would either have to be Lightning center and team captain Steven Stamkos or goalie Ben Bishop, because those are the two players her father first introduced her to when he got her in to hockey.
The Lightning are taking on the Pittsburg Penguins in the third round of the Stanley Cup Playoffs. The next game, according to the Tampa Bay Lightning official website, will be Tuesday the 24th at 8 p.m., and will be a home game for the Lightning. For now, Lightning fans in and out of Osceola will have to wait and see what happens next, and will have to continue to be the thunder for their home team.