Warrior shines on the football field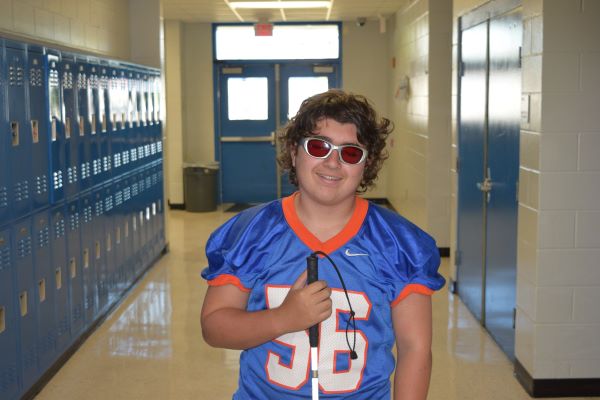 Q- Does your eyesight impairment affect you in any way while playing football?
"Yes, like trying to block a linebacker, it's harder to see. Like far away things."- Giovanni Loschiavo
Q- What encouraged you to play football?
"I saw it before and I liked it. Also, my dad showed me, through Owen's dad."- Giovanni Loschiavo
Q-Are you enjoying your JV season so far? Explain.
"Yes, because we aren't doing bad and we are making progress."- Giovanni Loschiavo
Q-Have you ever doubted that you would play well because of your impairment?
"Well yes, but not because of my eyesight, but because of my position at center."-Giovanni Loschiavo
Q-Has anyone ever tried to persuade you not to play?
"No, I've always been encouraged. Never discouraged."-Giovanni Loschiavo
Giovanni Loschiavo, a 9th grade JV football player, has a small disability with his vision. But that doesn't stop him from shining on the football field. Teammates say he is a hard worker and never gets down on himself. He is a leader and role model to others on the team. Giovanni said he will continue his journey as a football player for years to come.